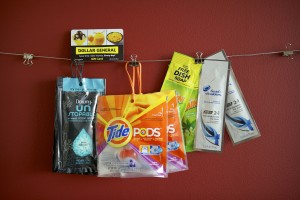 That prize pack on the left, I gotta say, I love it. There's Downy Unstoppables, Tide Pods, Gain dish soap, and Head and Shoulders samples. Plus a Dollar General gift card.
All fantastic things that I'll use.
You too? Great because we're giving this prize pack away thanks to Dollar General, which is committed to literacy. You can learn more about that by heading to this link.
Speaking of Dollar General, the store is joining with Procter & Gamble to honor Every Day Heroes. Dollar General selected Sabrina Williams as its Every Day Hero for February 2013. She will be featured in a national television program airing on TNT called "Dramatic Differences."
A little about Sabrina: Sabrina is a driving force in the community of North Lawndale, on the west side of Chicago.  In addition to raising her own four children in the neighbor she grew up in, she also became a valued community leader  and volunteer. She was the Chair of the Parent Committee at her children's elementary school and continued to work with a national after-school literacy organization, America SCORES, as a writing coach for 3rd, 4th and 5th grade boys, even after all of her own children went on to high school.
Amazing.
To celebrate, we are giving away nine prize packs containing the following: $10 Dollar General gift card, Dawn® dish soap samples, Gain® laundry detergent sample, TIDE® PODS samples, Downy® Unstoppables samples, and Head and Shoulders® Endurance shampoo samples.
Drugstore Divas is giving away one pack, and each of the following of our blogger friends are giving away one as well:
Thrifty Momma Ramblings, Clair's Freebies, Donna's Deals and More, The Cajun Couponer, The Frugal Fairy, Couponing as a Lifestyle, Coupon Hauls and Katie's Krazy Savings.
The giveaway is live now and runs until 11:59pm EST on January 28. It's open to US residents age 18 or older.
Enter via the Rafflecopter below.
Drugstore Divas received the same package for this post and is responsible for the fulfillment of one (1) package.